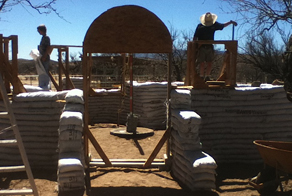 Earthbag/SuperAdobe House
A New Concept
When we first arrived out here on the homestead, we lived in a 24 ft. travel trailer. That living situation would not work for long. We started a remodel on the one bedroom structure on the property. This was a short-term solution. We began searching for another type of dwelling to build. We found the idea of Super Adobe building on the internet. This was a completely new idea.

Super Adobe Building
This "technology" uses "adobe" (damp dirt, clay and sand) packed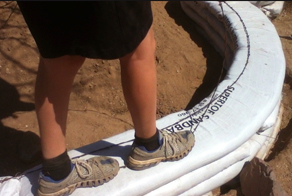 in tubes of continuous polymer bag. Architect Nader Khalili originally designed the Super Adobe system for NASA for building habitats on the moon and Mars. He labeled it "Velcro-adobe". We shape and cut tubes to any size and length the polymer material allows. We lay various arrangements of tubes flat and tamp with a 10-pound weight.

Site Selection
Shelly envisioned a courtyard, somewhat like cabins in a campground. Our buildings would also take similar shapes. We selected the site for the first of five structures to build. We have several trees in the backyard perfect to arrange the buildings.
Preparing for Building One
After selecting the perfect place, we laid out the floor design using a compass style method. Placing a stake in the ground at the center and attaching a string to the stake, we marked a perfect circle on the ground. A second circle was drawn at 16 inches shorter in diameter to accommodate the adobe tubes. In the same manner, we created several other circles at tangents to the main circle.
Using coffee cans, we filled the tubes with damp adobe soil here on the property. Tamping the bags and placing barbed wire on top, we built the tubes to the bottom of the window level and added window/door frames to fit. We used 2x6 blocks and ½" plywood with exposed roofing nails as cleats ("nailers"), (all sandwiched between the adobe layers) to secure the frames.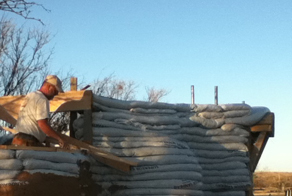 The Roof
We choose a wooden roof style but had to design a way to attach it to the top of the tubes. Based on the idea of a "dead man" (a retaining wall securing system), we manufactured "dead man" retaining devices at the top of the walls and secured 2x6 top plating. We could then use hurricane clips to attach rafters and headers to support the roof.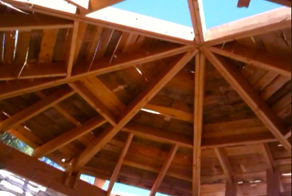 This covers some of the basic ways we put together the first structure. We have more information to pass on in future articles. Stay tuned for "cobbing", floor and lime plaster.
Walk Thru 3 Years Later!!!
Update! If you want to walk thru this building 3 years after it was built, Click Here! (earthbag-room-walk-thru.html)
Gary Curtis
December 2012