Story of our Homesteading Adventure so far...
Moving From the City to the Country
Paradigm Shift
mylittlehomestead is about a paradigm change for our family's lifestyle and a subsequent move from the city to the country.
The Adventure Begins
The six of us moved out in July 2005 into a 24' travel trailer while we fixed up the guesthouse. We rented out our home in the city with the thought we could move back if we didn't like the country. After a few short months living on the property, we knew we would not even consider moving back to the city. We immediately acquired a steer and 2 piglets to raise for meat. We were on our way to producing some of our own foods. However, we were not farmers and our parents were only children when they lived on farms. We needed to gather more information from those who were experienced. The internet became our number one resource.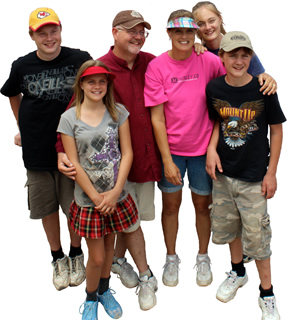 Looking Back
Today, when we travel into the city, we wonder how we lived in such small quarters keeping ourselves busy with jobs and activities. Life is so rich living in the country.
It's a peaceful freedom where daily stresses evaporate in the sunshine or in watching a goat bounce happily to its next food source.
To contact us, join us on Facebook by clicking on the button below:

Why We Moved
The Story Begins...
I had been losing energy over the years. After delivery of my fourth child in September 2000, I figured I was tired due to having a new baby and not getting enough sleep. With children ages 5, 3, 1 and the newborn, the house was always busy. Sleep was a luxury for the future. People would tell me, "of course you're tired, you have four little ones"...MORE
Most Popular Videos

Walk Thru Our First Earth Bag Construction Project!

Earthbag Interior with Rocket Stove

Rocket Stove Mass Heater

Bryson's Earthbag Room - Step By Step

Super Adobe Structure

Earthbag House

Homemade Self Watering Container

Homemade Egg Incubator

Simple Homemade Go-Cart

Self Watering Container with Tires

Simple Solar Food Dryer

Homemade GOAT Kart