MyLittleHomestead

Super Adobe Structure

Earthbag House

Earthbag Interior with Rocket Stove

Rocket Stove Mass Heater

Homemade Self Watering Container

Homemade Egg Incubator

Simple Homemade Go-Cart

Homemade Soil Cement

Simple Solar Food Dryer

DIY Outdoor Shower

Self Watering Container with Tires

Homemade GOAT Kart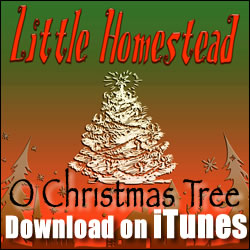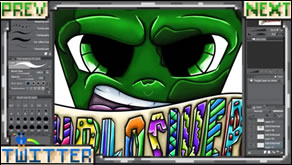 Slow_Silver Speed Art with Cartoon Lettering
Time Lapse
Slow_Silver is bringing you another speed art! I really like her lettering in this one and I think you will too! Watch the video below and feel free to share it around. ...Watch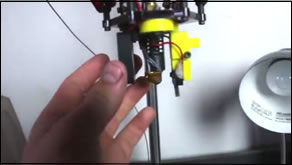 ScienceMadeFunner Upgrade 3D Print Head
Replace 3D Printer Extruder Head
3D printers can be detailed and difficult but once you get the hang of it the possibilities stretch far and wide. Part of the setup is replacing or putting in the heat tip so here's how. Enjoy and spread the love with friends and family :) ...Watch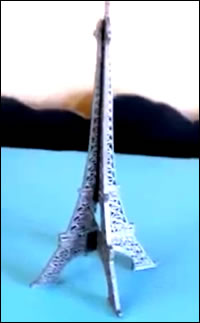 ScienceMadeFunner 3D Print Eiffel Tower
Time Lapse Speed Print
3D Printing is such a fascinating process to watch and especially when you know what's being printed. Here's a video of my big brother printing the Eiffel Tower! Enjoy and share! ...Watch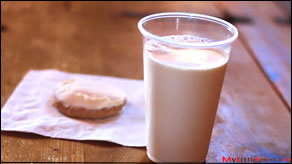 WEEKLY PEEK EPISODE 23 Cold & Flu Season - Strategy for Staying Healthy
How to Boost the Immune System
Sickness comes right along with winter. Every year we fight against the cold and flu. There's no fool proof way to keep sickness away completely but that's no reason not to try. We have a few family tricks that help us through the sick days. Enjoy the video below and feel free to spread is around! ...Read More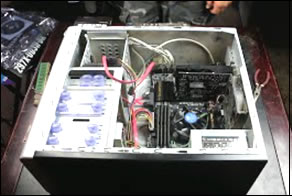 ScienceMadeFunner How to Build Hackintosh Mac Pro
Cheap Alternative to a Macintosh
Watch Bryson build a Hackintosh to avoid the high costs of a Mac and simply enjoy the challenge of building a computer from scratch. We have become quite the Hackintosh fans as we have five around here - three desktops and two laptops. This is the second one that Bryson has built. ...Watch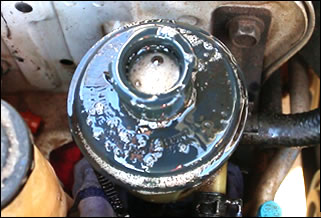 MrOffandOn Power steering fluid foaming, Overflowing And/Or Pump makes Grinding Sound
Fix Cracked Hose on Pump
Our power steering pump is making a grinding sound and the fluid is foaming and overflowing. Garen discovers a crack in the low pressure side return hose on the power steering pump. Here is how to replace the power steering hose on an 1999 Hyundai Sonata. ...Watch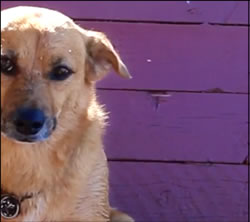 SUPER BOWL COMMERCIAL Wiener Dog Cuteness
Hot Dog the Super Bowl is Coming!
If you haven't already, you've got to see this adorable commercial. These wiener dogs will melt your heart. They are finally living up to their name. If only they allowed dogs into Comicon, Bree's dog, Max, could join in the fun :) ...Watch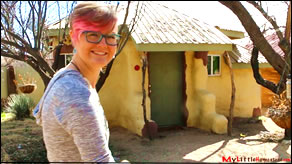 WEEKLY PEEK Walk Thru our First Earthbag Construction Project
Building Completed in 2012
It's been a chunk of years since we built Bree's room and since that time we've built an expansion on the main house, Garen's earthbag room and have nearly completed Bryson's. We thought it was time to take a trip down memory lane and revisit our first adobe building. ...Watch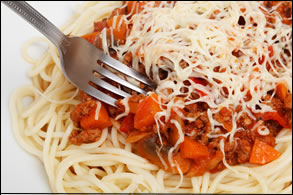 RECIPE Homemade Speghetti or Pizza Sauce
From Scratch
Recently two different neighbors dropped off a box of tomatoes each. We didn't want all that wonderful, fresh food to go to waste so we tried this Spaghetti Sauce recipe. We left out the red pepper because not all of us are crazy about spicy food. It turned out very flavorful. Check out this Homemade Spaghetti Sauce from Favorite Family Recipes, then can or freeze the extra to enjoy it again and again! ...Read More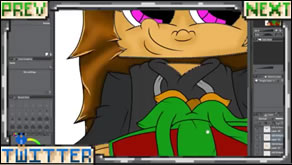 Slow_Silver Minecraft Christmas Profile Picture
Speed Art
Flash back to December folks. I love Christmas and am always sad to see it go so here's one last sprinkle of Christmas. Watch my Sister's beautiful art below! ...Watch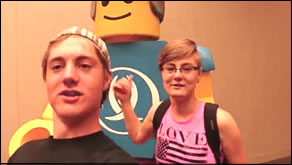 Slow_Silver ComiCon 2015
Conventional Wisdom
Wow, its been so long since the this convention. It was the first comic con the family ever went to. We've come so far since then. I personally have started making cosplays left and right. So much has changed for me and these conventions are now an annual thing. Watch the video below! I think I'm taller now!?!? ...Watch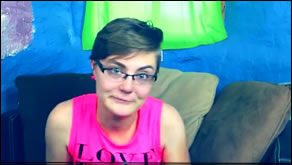 Slow_Silver I Burnt The Beans
We all have one of those days where everything goes terribly wrong and it's extremely funny months later! Here's my sisters story any I hope you enjoy as much as I did! ...Watch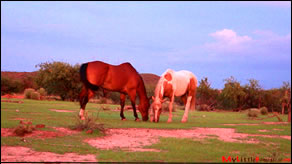 WEEKLY PEEK Animal Management on the Homestead
Only What We Need
Being on a homestead has been a wonderful experience growing up. There's something special about caring for the animals and learning to love them while we have them. Sometimes it's sad to see the baby animals go but it's always fun to see how happy they make their new families. ...Watch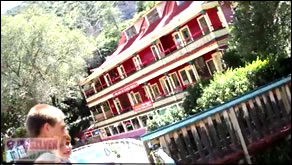 Slow_Silver The Family Goes to Bisbee
Going to Bisbee was a unique experience and something the whole family could enjoy. Watch my sister's Vlog below! ...Watch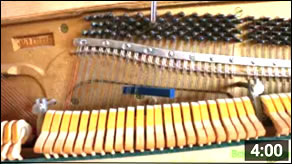 ScienceMadeFunner Tuning a Piano For the First Time
How to Do It Yourself!
Nothing like an untuned piano to grate on your nerves as someone attempts to play it. Here's our stay at home fix and I hope it helps you. Watch this video below and give us a like! ...Watch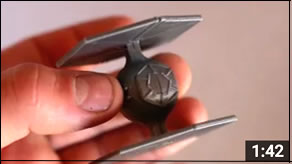 ScienceMadeFunner 3D Printed Star Wars Tie Fighter
Time Lapse
Star Wars is a giant fandom and even the family takes part in the fun. Watch the video below and share us with your friends! ...Watch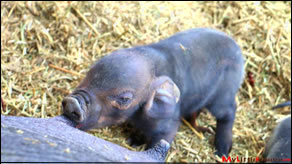 WEEKLY PEEK Farm Animals Born During Coldest Winter Week
Piglets & Kids :)
Winter is a hard season on the animals and we do our best to keep them warm. New babies are always a delightful addition to the farm but the downside is that they aren't always strong enough to live through the low temperatures. We currently have six new piglets and six new baby goats. Watch the video below and share it on your social medias. ...Watch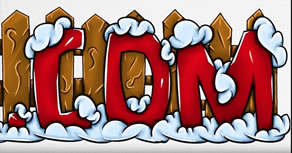 Slow_Silver New Banner!!
Bree doesn't just do profile art, she does free handed lettering and banners. We very much appreciate her making us a Christmas banner. Watch the video below and share us everywhere like your spreading butter on toast. ...Watch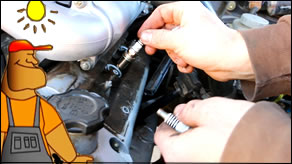 MrOffandOn Changing Suzuki Spark Plugs
Improve a Sluggish Car & Increase the Gas Mileage
Sometimes your car isn't feeling so sparky and needs some help. If you're like my family, and are not interested in taking your cars to an auto shop. Here's a quick fix you can do yourself. Watch the video below and give the share button a hug :) ...Watch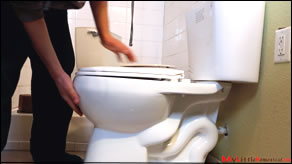 WEEKLY PEEK Bryson Installs a Toilet
Toilet Goes Down the Toilet
The farmhouse toilet has parished and Bryson sets out to install a new one, me and Mom dragging behind him. I wish I could say I know more about his adventure but I quickly hid in the box the toilet came in and proceeded to sleep. ...Watch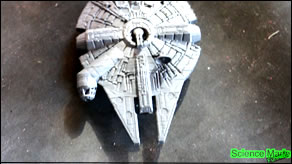 ScienceMadeFunner 3D Printed Star Wars Millennium Falcon
Time Lapse
In spirit of the new Star Wars movie, my brother 3D printed the Millennium Falcon! And even though I had to tip toe around the house as he filmed it, it was so fun to see it printed. Watch the video below and feel free to share us with your friends ;) ...Watch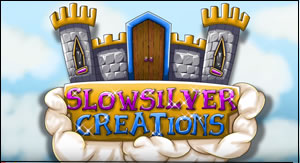 Slow_Silver Recap of 2015
It's been great fun watching my sister grow so much this year. I'm so proud to see her doing well in her business and I'm excited to see what she'll do next. I hope you enjoy the video and and share it on all your social medias! ...Watch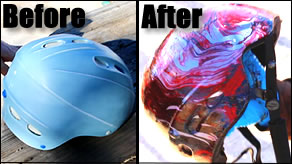 MrOffandOn Hydro Dipping a Snowboard Helmet
It's always fun to try new ways of doing things, such as painting. Hydro dipping creates a unique look and is easy to do. My brother, Garen, used rattle cans but I'd imagine you could use any kind of paint. Check out the video below and feel free to share this on your social medias :) ...Watch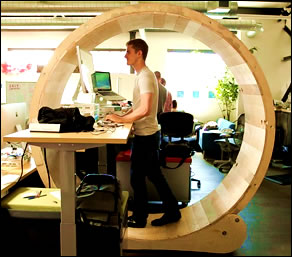 HOW-TO Human Hamster Wheel
Get Into the Rat Race
I'm not sure why these guys didn't just use a treadmill but isn't it creative? I have changed from standing instead of sitting while I work on the computer, but this idea is a literal step further. I have come to love standing because sitting for long periods of time tends to make me tired. We're not planning to build this Wheel anytime soon but it sure looks fun! ...More Info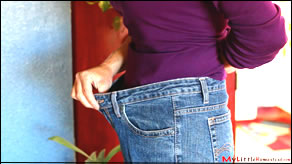 WEEKLY PEEK EPISODE 18
Mom Loses Weight the Easy Way and Keeps it Off :)
Free Diet Plan
Mom loses weight using an easy diet idea. It took little effort for big results! The best part is that it didn't take any exercise to do it! ...Watch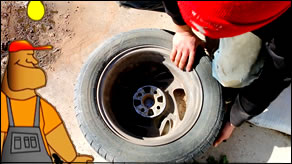 MrOffandOn Gettin' a Little Mud on the Tires
We Never Had this in the City
One of the problems that stumped us for quite some time, was our unbalanced tires. Even after having the car return three times to the tire shop in hopes of fixing it, we were still wobbling all over the freeway. Then, Garen discovered the problem and an easy fix. ...Watch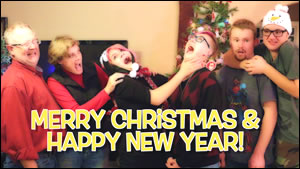 THANK YOU! Merry Christmas & Happy New Year :)
From Our Family to Yours
We appreciate all the support and kind words we have received over the years. We want to thank you and wish you a very special Christmas and happy New Year! ...Watch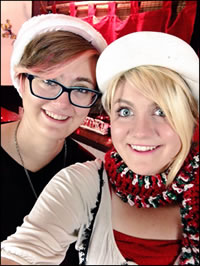 Winter_Apple Easy Homemade Brownies from Scratch
Simple Recipe Just In Time for Christmas
Shae a.k.a Winter Apple and Bree a.k.a. Slow Silver made some Christmas Brownies and put together a vlog :) ...Watch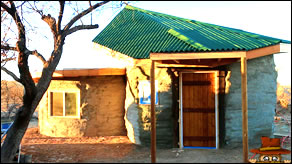 WEEKLY PEEK Earthbag Construction Part 8
Exterior Door & Stucco
It's Beginning to Look a Lot Like Christmas
The cold weather has moved in and we are starting to slow down. Not to mention that next week is Christmas! But, despite the holiday and hail, we endured to finish the stucco and door :) ...Watch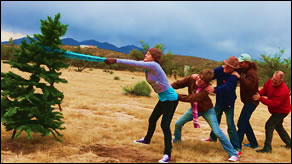 FLASHBACK A Tree Using No Floor Space :)
Here's a silly video we put together last year for Christmas ...Watch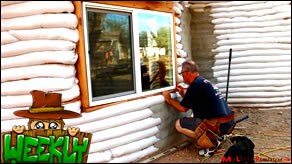 WEEKLY PEEK Earthbag Construction Part 7
Roof, Stucco & Windows
The Race is On
We are getting closer to finishing the exterior of the earthbag room. Completion is starting to look like a possibility. ...Watch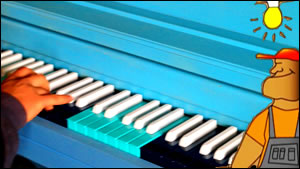 MrOffandOn Painting Piano Keys
We were given a piano from a generous local family. While Shae is planning how to paint it, Garen and Bryson decide to paint the keys. They are unable to find anything online on how to do it. However, this does not deter them as they go for it anyway. ...Watch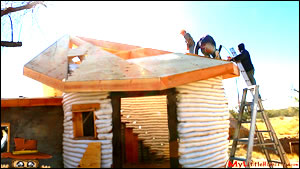 WEEKLY PEEK Earthbag Construction Part 6
Conical Roof for Earthbag Building
Alternative Design
The guys finish up the framing and sheeting of the organically shaped roof for the front half of the structure. The conical shape allows for a high end where the stairs will lead to a small door out to the upper patio. ...Watch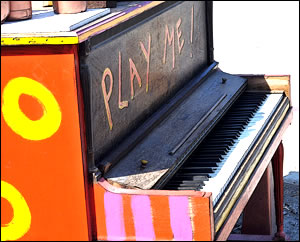 HOW-TO Painting & Tuning a Piano
Painting
We were graciously given a piano by a local family. Bryson learned online how to tune the piano. Now it is time to give it some paint. Here is a video teaching us how to do it :) ...Watch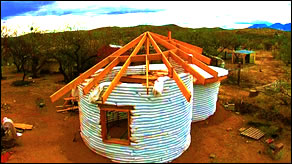 WEEKLY PEEK Earthbag Construction
Thanksgiving Update
Plugging Away
Bryson takes us on a walk-thru of the "current state of the building". ...Watch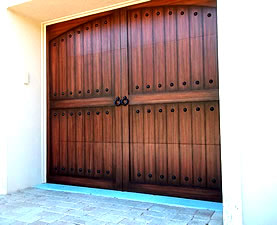 HOW-TO Painting Door to Look Like Wood
Bree's earthbag bedroom doesn't have a wooden front door as we had originally wanted. It was too costly so we went with a simple steel door. Since then, we have found three unique wooden doors that have & will be used on Garen, Bryson and Shae's room. For Bree's door, we found another solution. Here is a how-to on painting a door to look like wood. ...Check it out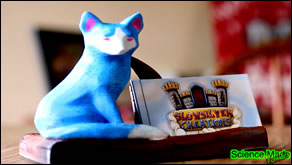 ScienceMadeFunner 3D Printer Business Card Holder
Time Lapse
Bree needs a business card holder for her new business cards. She picks one out on thingiverse.com and Bryson uses his 3D printer to print one out for her. Here is a time-lapse of the 3D Printing. ...Watch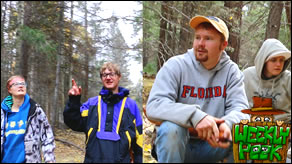 WEEKLY PEEK The Family goes Hunting
Camping Time
Garen takes us out on a hunting trip to one of his favorite camping spots ...Watch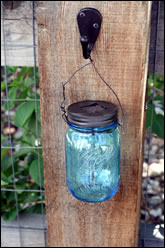 How-To Cheap Solar Garden Light
The puppy chewed up several of our outdoor solar lights that stake in the ground. I didn't want to throw them out because even in their brokenness, the lights still work. I found a website that shows another use for these cheap solar lights. I can re-use the working parts and keep them up off the ground - making them "puppy-proof"! ...Check it out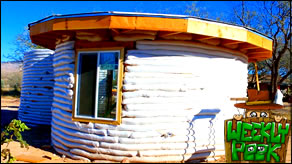 WEEKLY PEEK Earthbag Construction Part 5
Roof Patio Deck for Earthbag Room
Gary spent much time researching how to design the patio roof. It has to be strong and leakproof. There are several expensive options but after talking with a professional roofer, he found an simple solution.
Watch Gary and Bryson put the puzzle together ...Watch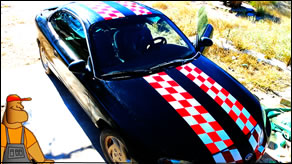 MrOffandOn Inexpensive Way to Paint a Car
Paint for Cheap
Garen wants to test an idea of how to paint a car inexpensively. He bought several cans of rustoleum and gave it a go ...Watch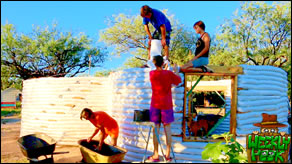 WEEKLY PEEK Earthbag Construction Part 4
Finishing the Earthbag Walls
Reaching the Top
With such great help from our friends, we bagged half way up Bryson's earthbag bedroom! It's a real boost to get that kind of help. Afterwards, we keep at it and finish "earthbagging" ...Watch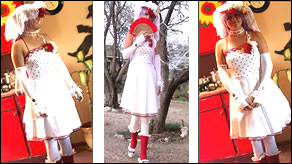 Winter_Apple Doll Costume
Halloween Time
Shae put together a doll costume and posted a video. Take a look :) ...Watch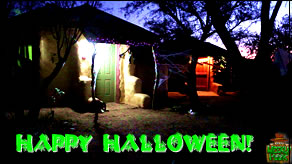 Weekly Peek Halloween Special
Earthbag Set
Strange uses of earthbag homes - Halloween video sets! We never would of imagined when we were building these superadobe bedrooms that one day they would become a video setting for a witches lair & mad scientist lab :) ...Watch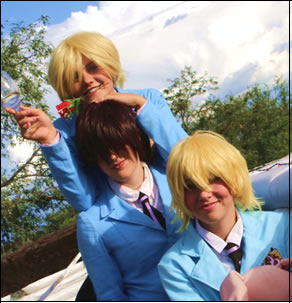 Winter_Apple Ouran Cosplay Making Costumes
ComicCon
Shae has been cosplaying in Comic-Con. She participated in a "panel" and now she is hooked. Her favorite character so far is Tamaki. She loves to mimic the drama and theatrics. Her friend Esther's Mom, Margie is an expert seamstress and agreed to help make several Ouran High School Host Club school jackets. They purchased the badges and wigs online. The characters are all men but Shae was insistent that the costumes be made "lady-like" with proper fittings :)
She put together a vlog of the making of the jackets ...Watch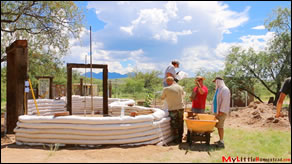 WEEKLY PEEK Earthbag Construction Part 3
Wall Raising
Party Time
We've been talking about inviting several people over to help build one of the earthbag rooms for over a year. It's finally that time. It's always more fun to work when you can do it with several friends. Here is our "wall raising" work party ...Watch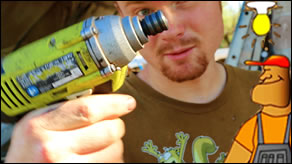 MrOffandOn How to Remove Jammed Drill Bit
Bit Stuck in Drill!
When the bit broke off inside the impact drill, here's how we removed it ...Watch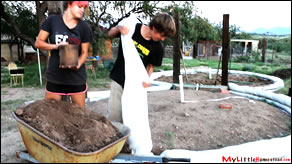 WEEKLY PEEK Earthbag Construction Part 2
Preparation
Barn Raising
Remember hearing about the good ol' days when neighbors would join together for a barn raising party? After several requests, we decided to have ourselves a "wall raising" party for Bryson's earthbag bedroom. Friends, co-workers and neighbors will be joining us to help but before that can happen, we need to prepare ...Watch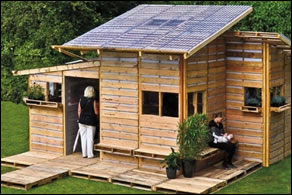 FUN IDEA Creative Pallet Playhouse
This cute building structure is touted as an emergency shelter that can be built in less than a day but I think it would make a cute addition to the backyard as a playhouse or garden shed. Wouldn't children love building and playing in this little homemade place ...More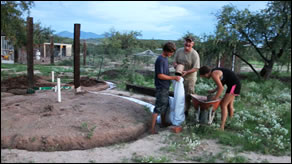 WEEKLY PEEK Earthbag Construction Part 1
Breaking Ground
Bryson's Earthbag Bedroom
It took a year to build Bree's room and 6 months for Garen's. This time we are trying to do it in 3 months. We'd like him in his room before the end of the year. His room is taking on a new shape including steps and a railroad tie entry ...Watch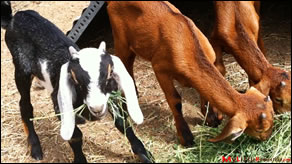 WEEKLY PEEK Coping with Life & Loss on the Farm
Death, Sickness, Injuries and Miracles
Raising animals has ups and downs. Here are some challenges & triumphs of recent events here on the homestead ...Watch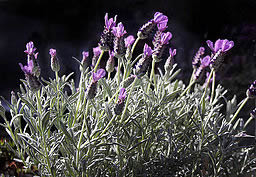 ORGANIC SOLUTION Herbal Insect Repellents
With rainwater harvesting comes mosquitos. The desert usually lacks insects but when water is added, bugs magically appear. We have mosquito fish in our larger rain barrels to control the bug population. The smaller barrels and pockets of rain pooling in various areas around the property have brought in more mosquitos than I can remember (not to mention lots of rain too:) We reluctantly bought "Off" this year before discovering some better solutions ...Watch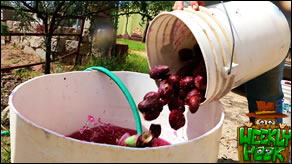 WEEKLY PEEK Homemade Prickly Pear Cactus Jelly
Harvesting, Making & Canning It!
Have you checked out the ingredients lately on jelly in the store? Wow, there can be so many yet so few I can pronounce. One way to know what ingredients are in jelly is make it ourselves. It's organic with no preservatives or additives!
Friends come over and help teach us how to harvest, make and can homemade jelly ...Watch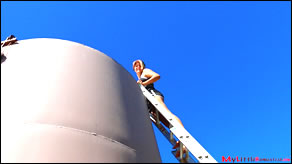 2 YEAR BATTLE Restoring our Dry Well!!!
Bryson and Garen have put in much time and effort with their ideas and inventions and it's finally paying off. Restoring our well water has been a 2 year effort that has come with many challenges and prayers. Here's Our Story ...Watch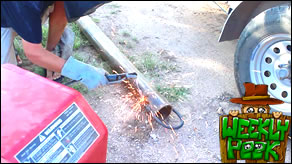 WEEKLY PEEK Drilling Our Own Well Using Homemade Percussion Drill
Bryson is back at it again. This time, he found a drill that has a better chance of breaking up the hard ground at the bottom of the well. Watch him build a homemade percussion drill and test out three different ways to use it. ...Watch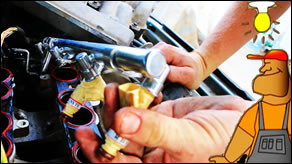 MrOffandOn Replacing Fuel Injectors
Here's how we replaced our Fuel Injectors in our 2000 Mercury Cougar. ...Watch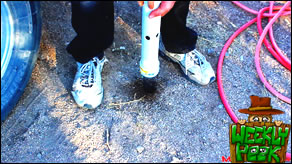 WEEKLY PEEK Drilling Our Own Well Using Homemade Pneumatic Drill
Attempt #3
The Air/Water well drilling works with sand. However, we discover the bottom of the well is hard ground, it needs something much stronger. The guys are making additional modifications. ...Watch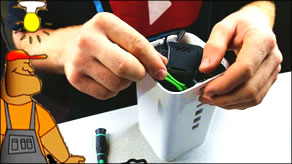 MrOffandOn How to take Apart an Apple Extreme Router
Replacing Power Supply
Trying to find out how to take apart your Mac Router? Here's how to do it. We replace the power supply. ...Watch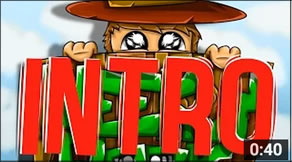 Slow_Silver Weekly Peek 2D Animated Intro!
Intro for MyLittleHomestead's all new Weekly Peek Series! This animated intro is for is my families channel! Feel free to check it out! Thanks! :D ...Watch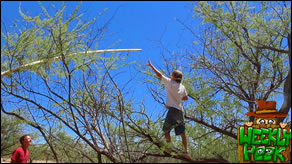 WEEKLY PEEK Drilling Well Deeper Using Only Air & Water Continued...
Updates
We're continuing our efforts to see if this method will work for us. We improved the suction, updated the air hose and fixed the air compressor. ...Watch
MrOffandOn Replacing Throttle Position Sensor
If your throttle is acting up, this is cheap and easy replacement that could possibly fix the problem. Here's how to replace a throttle position sensor on a 2000 Mercury Cougar. ...Watch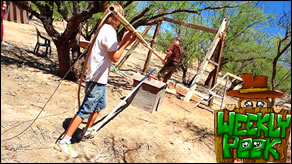 WEEKLY PEEK Drilling Well Deeper Using Only Air & Water
Digging a well using only air and water? We're trying. It is proving to be quite the challenge but we are determined to see if this method can work for us. ...Watch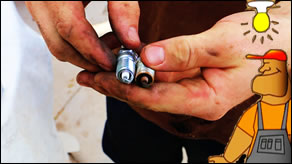 MrOffandOn Replacing/Installing Spark Plugs
Routine maintenance on the car - replacing spark plugs on a 2000 Mercury Cougar AND a Ford ZX2 Escort ...Watch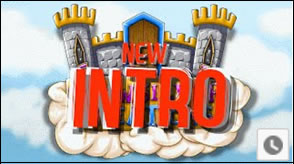 Slow_Silver New Animated Intro
Bree put together a new animated intro that she will be using in future videos. She will also be selling uniquely designed intros that go along with the profile & banner art she sells....Watch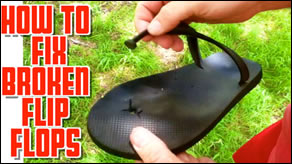 FLASHBACK Simple Flip Flop Fix
Save a Buck
Are you like us? Do you buy the most inexpensive flip flops at Walmart or the cheap dollar store sandals? Here is a trick we discovered to help them last longer.
...Watch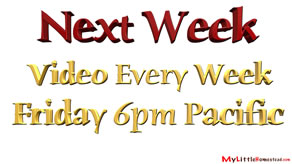 UPDATE Posting Weekly Videos
Starting Next Week
We will be posting a video every Friday night at 6pm Pacific time. These videos will either be our regular stuff or a new series called "Weekly Peek".
...Watch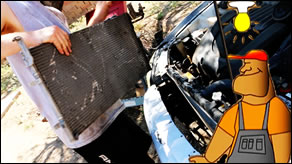 MrOffandOn Air Conditioning Condenser & Drier Replacement/Install
The A/C condenser & drier needed to be replaced after breaking off. We ordered all the parts online with the exception of a connection tube that had to be acquired from the dealership. But to our delight, the parts department was having so many computer problems they just gave us the $40 part! ...Watch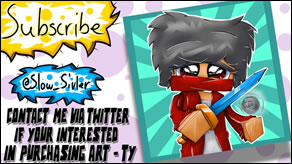 Slow_Silver Checking In With Slow Silver
Wanna See What Bree has been up to??? She puts out so many videos we can't keep up but here is her latest Speed Art. ...Watch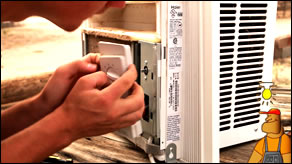 MrOffandOn Diagnose & Fix a Broken Switch on Window Air Conditioner
We don't have central heating/cooling in our main home. We use a wood stove and rocket stove to heat in the winter and fans and window coolers in the summer. During a monsoon storm, a power surge leapt over the built-in breaker in the cord and knocked out our best cooler. Before throwing it out, we asked Bryson to take a look at it. Using his multimeter, he was able to diagnose and fix the problem. ...Watch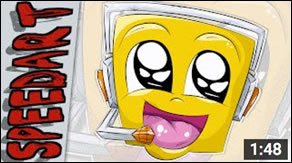 Slow_Silver Checking In With Slow Silver
Wanna See What Bree has been up to??? She puts out so many videos we can't keep up but here is her latest Speed Art. ...Watch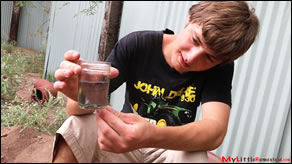 DIY Building Inexpensive Water Filter
Slow Sand Filter
For fun we thought we would build a Slow Sand Filter. We then discovered a way we could make good use of it - Attaching it to our rain water catchment system. We now can take our slimy, yucky rainwater from our rainbarrel, filter it, and pump it into our water storage tank for household use. This supplements our well water during the time when the well pump has the hardest time finding water. ...Watch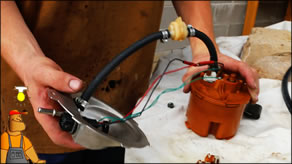 MrOffandOn Bypass Fuel Problem Fix
When the fuel pump stops working at a quarter tank of gas - Nothing seems to work even after replacing the fuel pump and removing water in the gas tank. This fixes the problem but means altering your fuel pump assembly. Do so at your own risk. ...Watch
BRAVERY Killing a Wasp Nest using Only Soapy Water & Stepping Stool!
Last year Bryson learned that wasps can prey on both beehives and bees. Not wanting to lose bees, we searched how to remove a wasp nest in our wood shed. We found an informative how-to video on youtube channel HowToDoStuffWatchHre & then we tried it! ...Watch Both Videos!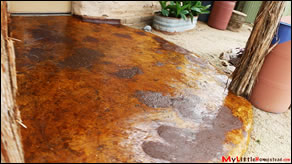 FOLLOW UP Paper Bag Patio Floor Update
Ever since the Paper Bag Patio has been installed, I have been somewhat afraid of it. I avoid walking on it and cringe when it rains. It seems so fragile. Yet after a year, it is surprisingly durable with a couple of exceptions ...Watch